I'm as addicted to Pinterest as I'm sure everyone is. I've been pinning everything from DIY projects, food, clothes for both myself and Lucy, hair styles, etc. I don't want to get in the habit of pinning a million things on my 'bucket list' or my list of things I'll do someday and never actually doing them. I'd like to take some of these ideas and implement them myself. So I'm going to make myself try something I've pinned on a regular basis.
I did this recently this past week with two hairstyles I pinned. I did my best to replicate. Neither of them are spot on, but I think with enough time and practice I'll be able to master these a bit better. I'm a big fan of messy, 'bed head'. It's rare that I'll run a brush through my hair trying to get perfect glossy straight hair. I'm usually tossing a few loose curls with the iron and out the door. I have naturally stick straight hair and would kill for some natural curl.
The first hairstyle was this adorable messy ponytail. I had curled my hair the day before so it still had some volume and texture to it already. I did one of the 'flip' ponytails, making sure not to pull it tight so the volume would stay. It doesn't look exactly like the example. I think I need to do a few more twists and pin a few pieces next time.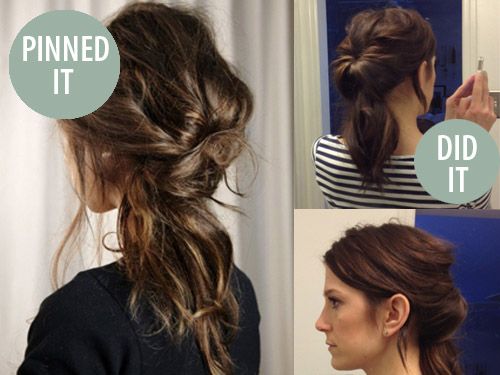 The next 'do I pinned and did was a simple topknot finished with a braid up the back from the base of the neck. I'm not usually one to wear my hair all pulled back from my face or in a knot on top of my head (unless I'm home). Surprisingly enough I received a ton of compliments at work that day for having my hair pulled back. This is one do I'm going to replicate on a regular basis. It was super easy to do and stayed all day. The tricky part is being able to do a french braid up the back of your hair. I'm actually fairly good at doing french braids. I was the girl who had to braid everyone's hair in grade school for field day because I was the only one who knew how to french braid.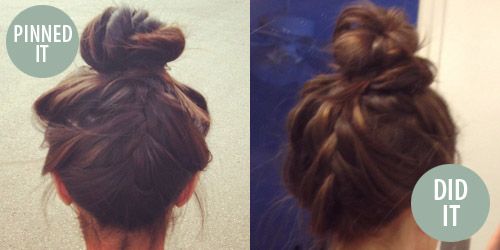 Here are a few other styles I've pinned and plan to try:
I've actually done this one before. I love this girl and her style, both clothes and hair, have always been an inspiration to me. I pinned this as a reminder to try this 'do again sometime.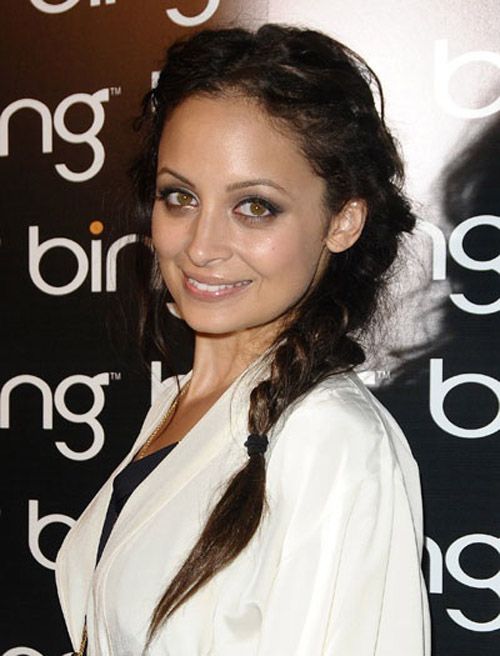 I love this simple double knotted pony tail. I'm not exactly sure how the knot stays, but I'm going to give it a whirl.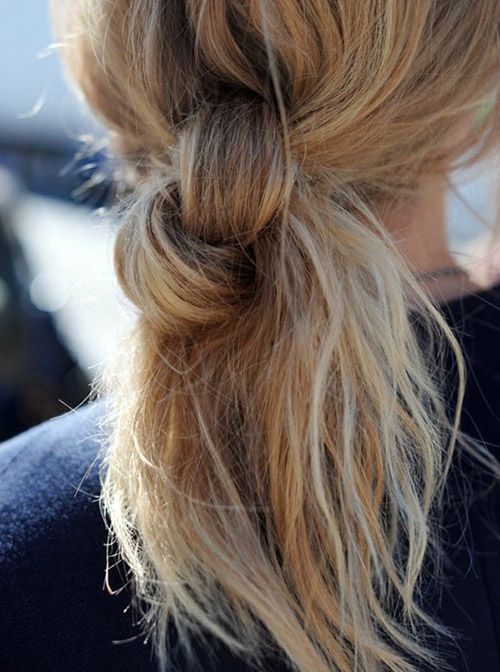 Finally, this is a picture I saved to my computers long before the days of Pinterest. I actually saved it a few years back when I was planning for our wedding and considered it for my hairstyle on the day. I'd love to perfect the messy bun. I always have trouble having enough volume while keeping my hair tight enough that the bun doesn't fall out.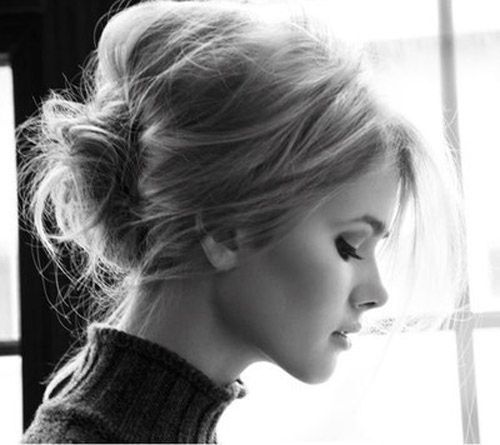 Have you tried anything you've pinned?