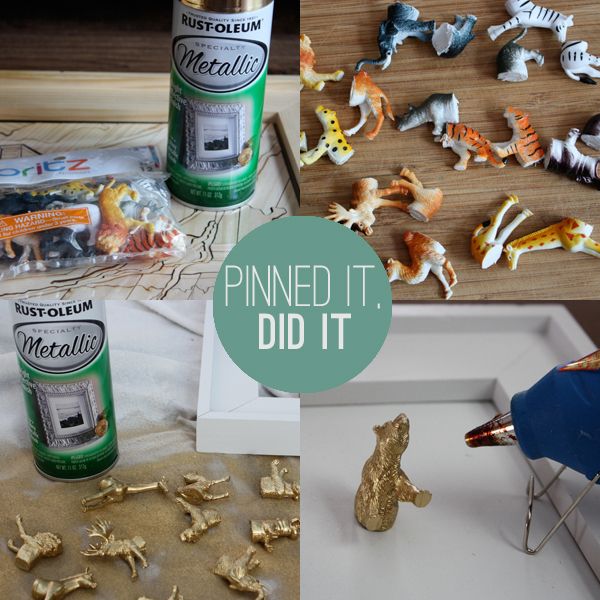 I love Pinterest. Who doesn't? It provides you with all the ideas that you wish you thought up on your own, and allows you to 'steal' those ideas for yourself. Ok, maybe steal is a harsh word, but I think you all know what I mean. I have no shame in my Pinterest game and this project is proof of that. Plus I'm always willing to give credit where credit is due.
I pinned this Miniature Mounted Menagerie just over a week ago and I immediately knew I had to do it.. and soon. Last weekend I gathered my supplies and got to work. The great thing about this project is it cost me next to nothing and took just one day to complete. The only things I needed to purchase were the plastic toy animals (a bag of 12 animals found in the Target party favor section for $3.00) and a can of metallic gold spray paint (maybe $5?). I already had the white spray paint and the frame was from an old wooden 'paint by number' piece that my mom was going to donate to Goodwill. I snagged it knowing I could chuck the print and use the frame. Good thing I did.
Similar to the author of the original post, I found the hardest part of this project to be cutting the animals in half. I used a sharp knife as we don't have any sort of tool that could be used. It wasn't until my last two animals that I finally found a good method for cutting them in half easier. Oh well.
A few quick coats of white spray paint on both the frame and cardboard it came with and some gold on my freshly halved zoo friends and all I needed to do was glue the animals to the framed cardboard.
I love it! It looks pretty similar to the original, although since I had a larger frame I opted to use all 12 of the animals. I have yet to hang the animals although I already know where they are going to go. I just need to take a few things down and patch up the wall space before I reveal the home for this little art piece.
Do you have a Pinterest project you just had to do as soon as you pinned?