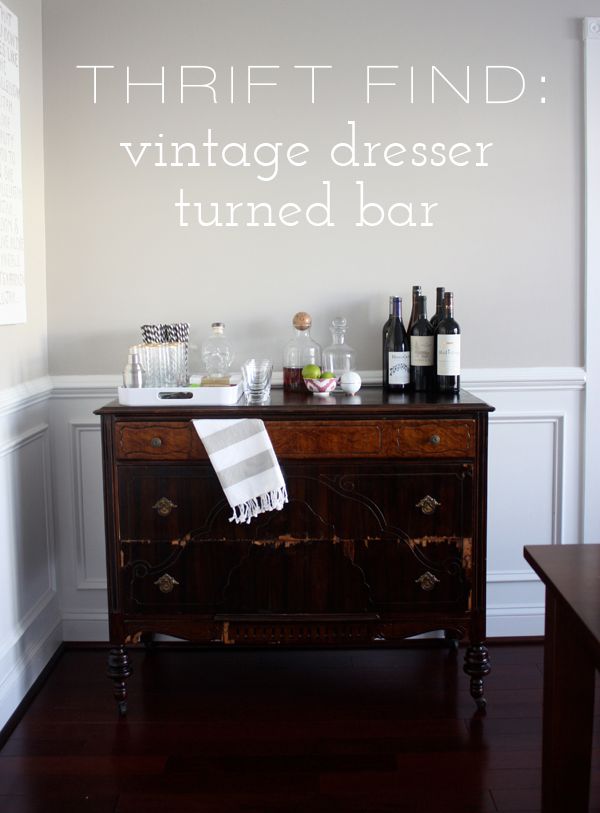 If you follow me on Instagram (@jessicademaio) or you've liked the Simple Kind of Life Facebook page (see link to the right) you may have seen a sneak peek at this piece of furniture. I've been on the hunt for some time for a vintage dresser that I could repurpose as a bar in our dining room. I wanted a dresser primarily for the storage space of having drawers, but also wanted to find a unique piece that I could either refinish or leave as is. I've been looking on and off at thrift stores but never had any luck finding a dresser for under $150.
Last Thursday I was dropping LJ off to my in-laws in preparation for a night out with my hubby. On my way home I decided to check out my favorite resale shop, Goodeals. I've praised this place before and I've had some really good luck sometimes while others have been hit or miss.
After a few minutes of walking around I came across this great dresser marked at only $25. The ticket on the dresser said 'As Is/Needs Work' so I was a little hesitant at first, but after checking the piece and seeing there was no structural damage, I was sold. My parents helped me bring it home this past weekend and I wasted no time dressing it up.
This was just a quick styling of the dresser and I will probably change it a bit to make it more practical. The gold rimmed glasses are actually knock offs to the Anthropologie version that I found for $1.00 each (sorry Anthro..). The mermaid bottle opener was on my holiday gift guide for men.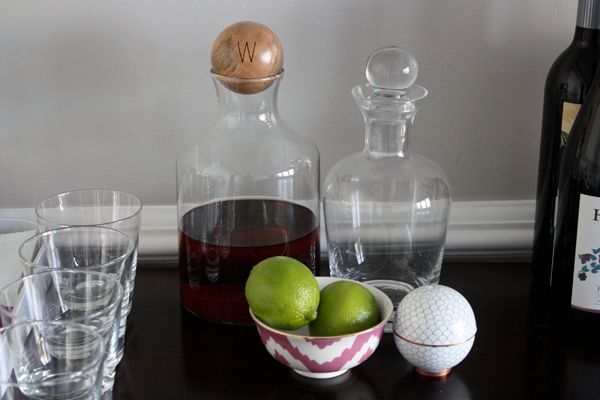 The whiskey jar in the above picture was a Christmas gift for Jordan. He's since filled it with a bottle of his whiskey of choice, Jefferson's Reserve. We are also patiently awaiting the arrival of Jordan's whiskey's stones to add to the bar.
I am seriously loving this dresser. The mix and match of wood tones and the carved details make my heart pitter patter everytime I look at it. There are wheels on the bottom, but they are a bit old so I'm toying with the idea of taking them off or replacing so they don't scratch our wood floor.
The top of the dresser is in near perfect condition.
The front of the bottom two drawers is where the dresser is damaged. Large chunks of the front of the drawers have worn or chipped off over the years. I'm still uncertain how I want or could fix this piece up. I'm considering sanding the drawer fronts down and restaining, but for now I'm loving it flaws and all. I'm really loving the wood tones too much to considering painting, it just needs a little TLC.
Our new bar is tucked in the corner of our dining room adjacent to the wall with my lyric painted canvas. I'll be on the hunt for some art and/or a mirror to hang on the wall above the dresser.
In case you're curious we of course still have the vintage bar cart I scored from Goodwill two years ago. I use that to hold the majority of our liquor and a few glasses. I'm still in love with this lucky thrift find.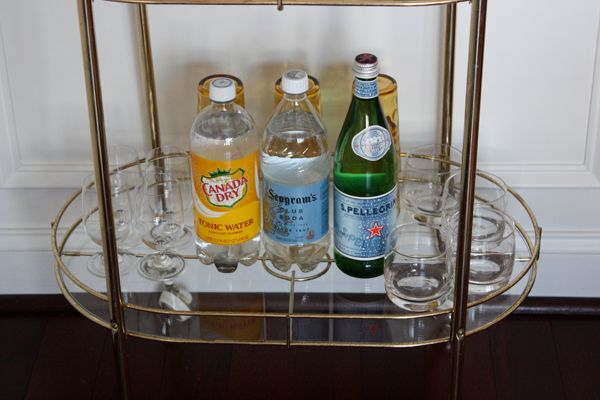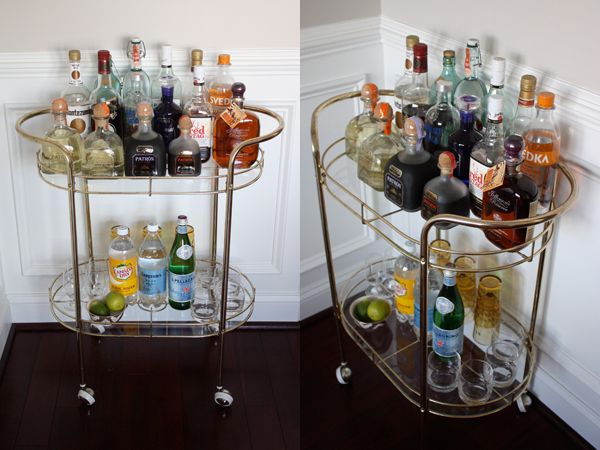 Funny enough if you had seen this shot of our dining room a week ago you would have seen a corner filled with storage boxes, canvases, and all of my craft supplies. Our dining room is finally starting to look like a functioning room.