Last Thursday, January 19th, Lucy turned 6 months.
I can honestly say that was the fastest six months of my life.
Weight: 15 pounds (30th percentile)
Length: 27.5 inches (97th percentile)
Just after Christmas, we decided to start trying to give Lucy rice cereal to help her sleep through the night. She loves it and it has really helped. We also tried bananas and sweet potatoes neither of which she really cared for, yet.

Can now sit up completely on her own

Starting to learn that her actions have reactions i.e., pulling on the penguin in her playpen will make it play music

Interacts with all her toys

Will sit in her playpen and keep herself occupied with toys

Loves her bouncer and jumps like crazy when in it

Still squeals and shrieks loudly. Learning new sounds all the time

Has started to kick her legs when excited

Watches Yo Gabba Gabba. This is really the only TV she watches other than when I put Baby Einstein on. But as soon as YGG starts, she is mesmerized and Mommy can shower.

Will now reach towards me or Jordan when she wants to be held or picked up.

Has clingy, 'no stranger' moments where if anyone tries to hold her besides me, Jordan, my parents or his parents, she gets upset.

Drooling seems to have slowed with no signs of teeth, yet

She is starting to show signs of hunger by sucking on my chin, shoulder, etc

Still exclusively fed by me, but when drinking pumped milk she will hold her own bottle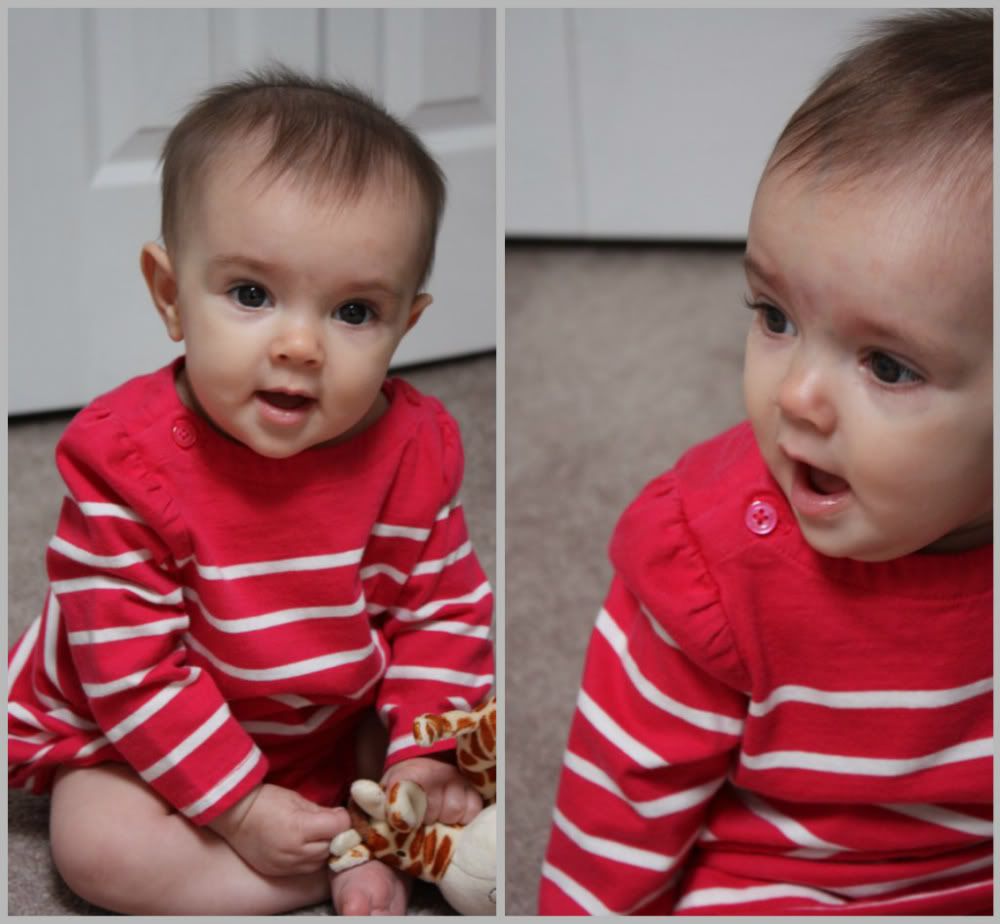 Sitting up in her bumbo watching Yo Gabba Gabba in a trance.
Happy 6 Months, Lucy Bug!