Instagram has become really popular lately. I've been using the app for over a year and love all the photos I take with Instagram. The problem is they are hard to print out and frame because of the size of the file once you upload them into the app. I recently came across the Stickygram website. Basically Stickygram takes all your Instagram photos and turns them into little photo magnets.
The Stickygram magnets come in sets of 9 for $14.99 each. There were so many photos I wanted to have as magnets that I ordered three sets.
As you can see, the magnets come pretty much the same size as the actual Instagram photo on your phone.
The great thing about the Stickygrams is that you can play around with how you want to display your magnets. This works great for me as I'm the type of person who constantly changes things around. Plus it's just fun to switch things up.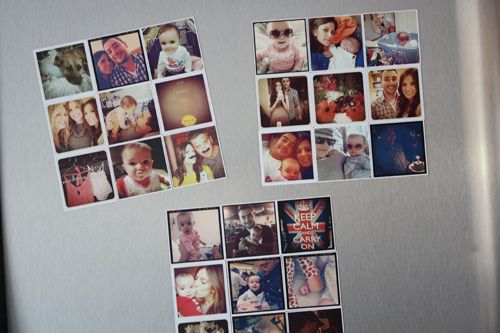 I'm in love with the Stickygrams and can't wait to order more. Even Lucy loves them. She points to all the pictures and 'talks' to us about each once. Her favorite it the picture of Lyla with her stuffed bunny.
Are you obsessed with Instagram, too? Have you tried Stickygrams?
Check out all of my Instagram photos here.