I spent this past weekend working on some homemade holiday decorations for our home. You might remember me telling you how I really don't decorate for the holidays. I never have. I think part of it has to do with the fact that my parents go all out for holidays like Christmas. My childhood home growing up was (and still is) a Winter Wonderland. We had a minimum of 3 Christmas trees each year, sometimes more. There was always lit garland around the steps, a giant lit wreath in the foyer window, every frame on the wall and glass table top was wrapped in festive gift wrap. Daily hand towels and rugs in the powder room were replaced with ones feature Santa. The list goes on.
I put a tree up the first two years in our house, but even that sort of dropped off over the past few years. Now that we have Lucy, I feel it's important for us to start really celebrating and enjoying holidays so she can enjoy them, too. I did a little Valentine's Day decorating last winter, skipped over Easter (I can't get down with pastels), the summer holidays and Thanksgiving. Now Christmas is here and it's time to decorate.
One of the easiest projects I took on wasn't even a planned one. My in-laws are in the process of moving and in doing so gave me a box filled with mason jars, knowing I could get some good use out of them. I initially started to use them to store the scraps and leftover supplies from other projects I was working on, but quickly realized I could also use this storage idea as a decorate piece for the holidays. Not only was this one of the easiest projects, but it was pretty cost effective, too.
The jars are filled with corks, paper straws, pinecones, beads and feathers. The corks were the only DIY I did for this project, dipping the ends in alternating gold, red and green paint to give them more of a festive look. I purchased the paper straws a few weeks back because I loved the look and knew I'd find a use for them. The pinecones were left over from our dining room table setting (to be shared later) and the beads and feathers were leftover from another project I was working on (that I'll share with you later this week, too).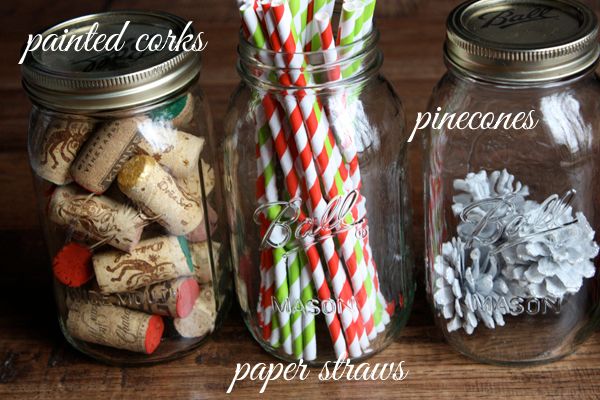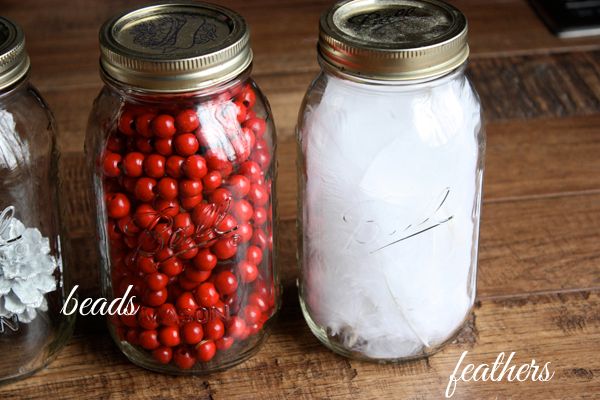 Not only was this easy to make, but it's also pretty easy and clean looking to display. I chose to put our mason jars on top of the cabinets on our breakfast bar in the kitchen. I catch myself looking at them a lot from our living room as the jars actually make the cabinets appear taller. I might need to store mason jars up there year round.
I have more projects to share with you this week!