About a month ago I shared some inspiration photos for DIY play kitchens I found through Pinterest. As I mentioned I want to take some old, thrifted furniture and refinish them into a little pint sized kitchen for Lucy for Christmas.
Not long after that post I ventured out and hopped around a few thrift stores trying to find a perfect pair of night stands. I had trouble finding a set that was the right size, the shape I wanted, and in decent condition. I eventually found two different pieces at my trusty Goodeals for a steal each (one was $8 and the other $11) and had trouble deciding between the two. I ultimately purchased both. I figured I could use one as a sink and the other as an oven. Who cares if they are the same exact style or size? I know Lucy won't.
Well these pieces have been sitting in our dining room for about two weeks know and Christmas is creeping up. Things have been so busy and crazy lately and hubby has been feeling a bit under the weather. We are closing in on a week and a half before Christmas so we need to get our butts into gear. Our plan is to get to Home Depot tomorrow and get supplies so I can get to work this weekend. Here's the plan as it stands today. Of course, knowing how I work things are likely to change on the spot.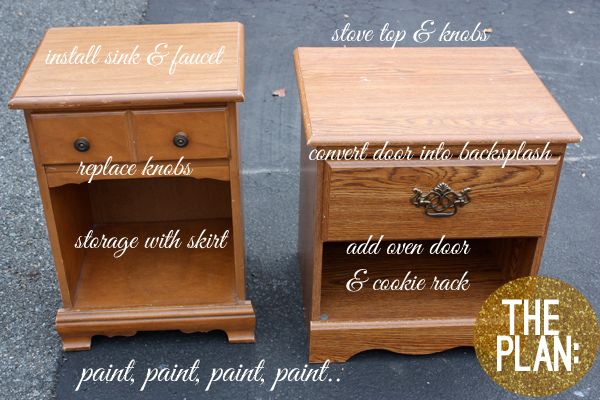 First, we need to make a few changes structurally. The drawer will come out of the piece on the right and will be replaced with an oven door made of scrap wood. The front of the drawer will be refashioned into a back splash behind the stove. I purchased a very inexpensive bathroom faucet and I'm on the hunt for a metal bowl to use as a sink. The night stand on the left will need to be cut into to install both. Once the structure is complete, I am dying to paint! (Color is a secret until the final product is revealed!)
Finally the fun part - decorating. A skirt under the sink, swapping out the generic knobs for more fun ones, and adding a few fun kitchen accessories.
Can't wait to get started this weekend.