With Christmas a month and a half away, I realized I need to get my butt into gear with gifts so I'm not scouring the mall on December 24th with a list of people to buy for. I also am really hoping to DIY a small amount of gifts this year, not to be cheap, but because I find them more personal and honestly really enjoy doing them. I've already had requests from both my mom and mother-in-law for subway sign type art as well as a DIY floral arrangement request from my grandmother and I'm thrilled to get started on them. Since this is the first Christmas Lucy will actually get to (somewhat) understand and enjoy, I really want to make it a good one. That being said, I don't want to spend a ridiculous amount of money on dozens of toys and games that she will get bored with in a matter of weeks.
Lucy honestly doesn't have dozens of 'toys' at our house. I've hand selected a few toys that we've purchased that I hoped she would not only find fun, but also can use to develop certain motor skills or learn something - coloring, puzzles, matching games, alphabet, etc. Honestly she has a ball just putting her crayons into a plastic cup and dumping the cup on the carpet or pushing our basket of recycling around the house, so spending a ton of money on things from Toys R Us honestly probably wouldn't even appeal to her.
Growing up, some of my favorite things to do were pretending to have 'grown up' tasks. I loved playing teacher, cashier, and of course mommy.
I found this project a few months back and kept it in my back pocket in case the motivation arose. When we were stuck inside for two days due to Hurricane Sandy, I eventually began to run out of fun ideas to keep Lucy entertained. You might remember our homemade finger paint project. At one point when I was trying to make us breakfast (and Lucy was needing 110% of my attention) I grabbed a few of the closest (and not dangerous) kitchen gadgets and redirected Lucy into the living room. She sat and played with her felt veggies (bought from Ikea) and the wooden spoon, colander and dishes I gave her and she loved it.
I remember having a play kitchen at my grandparents' house growing up and we all loved playing and pretending to cook meals for each other. The idea of having a play kitchen Lucy's size sounds amazing to me. Even better if I could DIY it myself over buying one. Of course being foodies ourselves, Jordan and I would love it if Lucy had interest in cooking when she got older.
I searched around and found a few great DIY play kitchens either built from scratch or by using old tv stands, dressers, etc.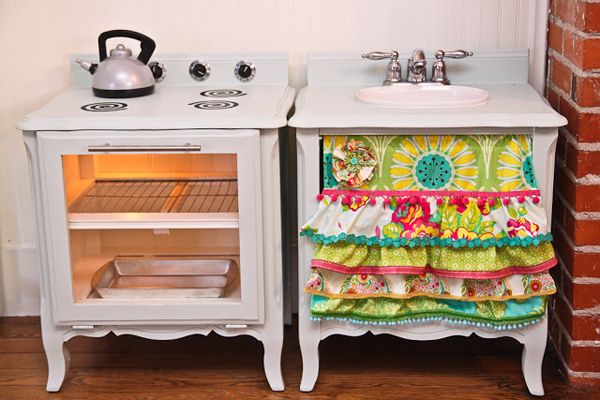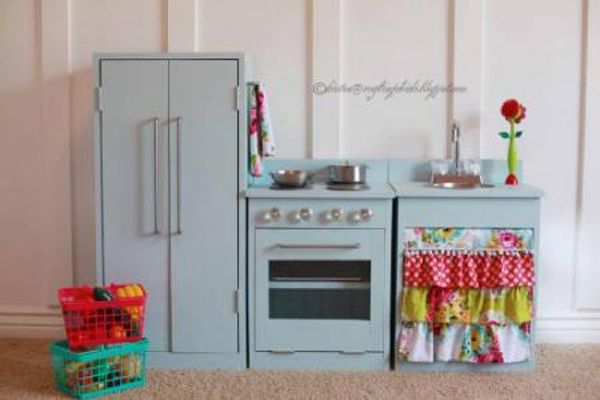 I'm hoping that since I'm mentioning this project on the blog, it will motivate me to get my butt into gear and do it. I honestly don't think it will be a difficult one, depending how complex I want to get. I definitely want to make it fun, girly and somewhat realistic.
First step is finding the right nightstands. Sounds like we have some thrifting to do this weekend!