We went with the blue! Chosen by Jordan himself as he said they reminded him of something that we would find in the Ace Hotel.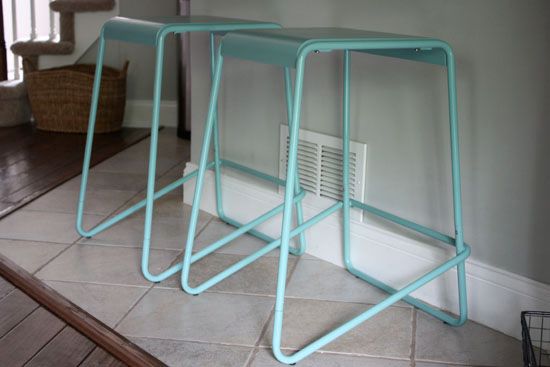 I really like how these stools have a modern look but still a retro feel. The blue offers the perfect pop of color needed in the kitchen that we definitely didn't have with the old stools. I now wish I had put out some fresh flowers before taking these photos, but consider it a 'real' shot. Hi cat.
The stools also nicely compliment the mix and match decor we have in our living room. Lots of pinks, blues and textures going on in there. This room seems to be a constant work in progress for me. We are currently waiting on a vintage wire table that I ordered from Etsy to replace one of the side tables.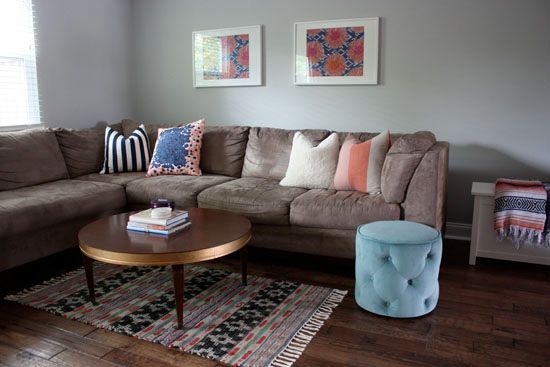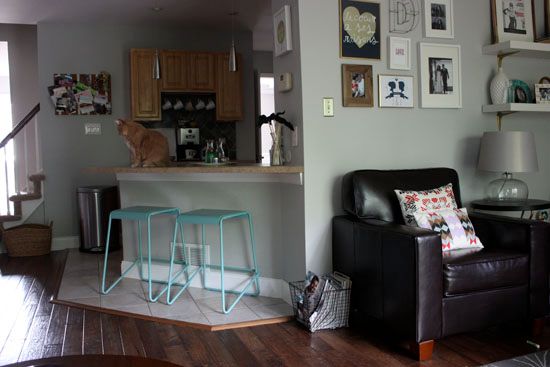 I know that awkward table and lamp next to the chair have to go. They just don't work under the shelves. Oh and as you can see we did eventually get around to rehanging them in the living room. However, we opted to only hang two instead of all three.
This time we decided it was best to reinforce the shelves with brackets, which I spray painted gold. I love the Audrey Hepburn prints - both were Etsy finds. The left is the sheet music for 'Moon River' from Breakfast at Tiffany's and the right is an original magazine ad from 1957 for 'Funny Face'. Both are in Target frames. The rest is a mix if books, Anthropologie goodies and a vintage camera I thrifted.
What do you think? Did you guess the blue stools?