Long time, no blog! Turns out being a work from home mother of two is seriously a FULL TIME JOB. I have little to no time to blog, but that doesn't mean we aren't still working on and fixing up our home when the time allows. I'm just popping in today (and hopefully will continue to do so as often as I can) to share some of the major changes we've had in our home lately.
First up is hands down my favorite project we have tackled in this house so far - our front door.
Honestly our original front door didn't look bad. It was a nice dark blue painted to match our shutters. Sure, up close the paint was a bit sloppy, but that's not really a reason to replace an entire front door.
The sidelight lacked any beauty. It felt cheap, was super glare-y, and you could see the sloppily painted layer upon layer (apparently it was once red).
The inside of the door was boring white. Again, not bad, but not a show stopper. After a few months I purchased a cheap blind from Lowes to hang in front of the sidelight because I hated that people could look into our house from outside, especially since we don't have a proper entry and the girls are often playing in the front room. It wasn't a perfect fix and you could still see through the sides, but it was better than the alternative.
The main reason we replaced our front door was because it was SO UNSAFE. When we moved in a year and a half ago one of the first things we did was change the locks on all exterior doors. Our house had been a rental property for who knows how long before it was renovated and sold to us, so we had no idea how many sets of keys could be floating about. We have 4 exterior doors with locks and replaced them all to new satin nickel finish knobs with new locks/keys. Of course the front door was difficult to change and through swapping out the handle something was damaged and the knob eventually didn't work right (yup our new knob).
Basically to shut and lock our front door you just pushed it flush and locked the deadbolt. The handle/knob was useless. There was no weather stripping so you didn't get that 'woosh' suction sound when a front door is shut and sealed tight. Just a piece of wood hitting wood. Because of this, it also proved to be pretty drafty in the winter. Our first winter in our new house was a chilly one downstairs. I used to joke that you could sneeze an the door would open, but bottom line was that it felt very unsafe.
When we received our tax return the following year, Jordan and I decided that a new front door was a priority upgrade for three reasons - safety, warmth, and curb appeal. When it came to what door and how it would look,
Jordan didn't really have a preference. Of course I had very specific ideas.
This was the photo I had pinned as inspiration:
I loved the idea of a 'wood' door ( it's actually fiberglass but made to look like solid wood). The curved features were so unique and the door looked so different from any of the houses around where we live. I do love wooden doors that have windows cut into them at the top, but for safety purposes prefer to have a solid door where no one can look into our house when they come to knock. To save some of the cost, we briefly considered just replacing the door and leaving the sidelight as is, but we knew that down the road we would be frustrated that we did (even though the sidelight cost almost as much as the door!) I also insisted that we change the sidelight from half length to full with no dividers in the glass
. The more light we let in, the happier mama will be.
After getting some quotes and going back and forth making decision after decision, we ordered our door. I was anxious to get things started, but it took about 8 weeks to arrive. So it wasn't until early July that we finally were able to get our new door installed!
I was home with the girls the entire time so of course kept peeking in on the process. This was also the same time that I painted our kitchen cabinets so our house was in major renovation mode. It was pretty amazing to have the entire old door and sidelight taken out. It looked huge!
Installing the new door/sidelight was a two day process, so we did have to spent one night with a front door that looked like this:
By the end of the second day we had a brand new front door/sidelight combo.
Isn't it beautiful?!
Honestly I still tell Jordan how much I love it. We chose to do the same brown stain on the inside (as opposed to white like our previous door). We have so much white in that front room (rug, shelves, chairs, fireplace, etc.) that the brown in the door really warms up the space. It looks and feels like a completely different entryway.
It was a major renovation that came with a pretty big price tag, but considering our situation with the old front door this project was a no brainer.
One of my favorite features of our new door and sidelight is that the sidelight blinds are in between the glass. When opened, they roll up all the way to the top and are hardly noticeable. You can see the tiny bunch of blinds at the top of the window in the photo above. When closed, we have complete privacy at night.
I'll admit I was a bit of a brat and fought Jordan on the storm door. If I was paying for a beautiful front door, I was not going to cover it up with a big glass door and a huge glare. I argued that I would never have the front door open when I was home alone with the kids anyway so it would pointless. The company we used actually had a promotion where we got the storm door for free with our purchase. After going back and forth I eventually agreed, but said I wasn't going to like it.
Ok, I was wrong. I love it.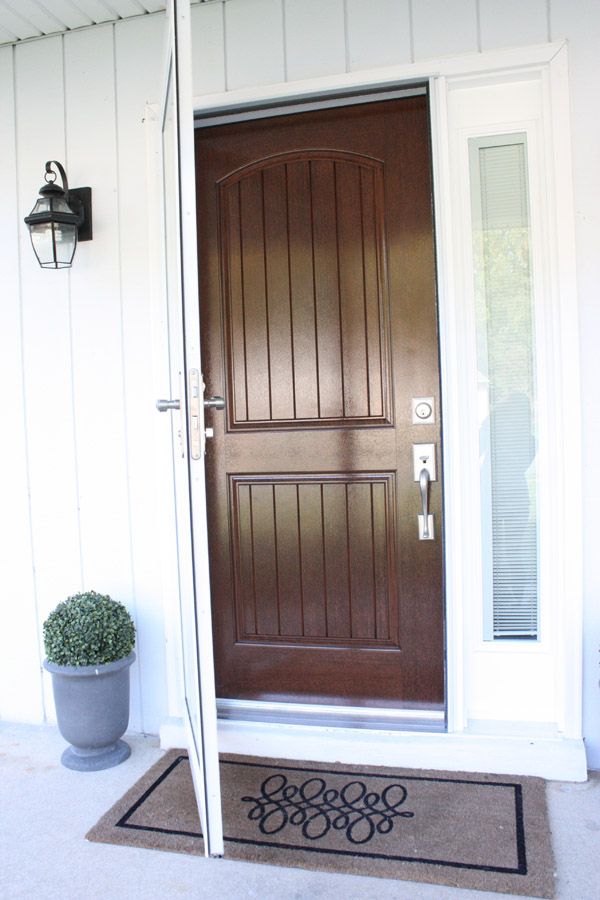 It's pretty, it's sturdy and it's practical. And from the street you can still see our pretty wooden door (contrary to the glare in the photo below).
(excuse our blurred out house numbers)
A late evening shot with the blinds open.
The best part of having a storm door? All of that natural light! Turns out, I open the door a lot. Of course I keep the storm door locked since the girls are always in the front room, but even the dog loves having somewhere to sit and people watch.
You may be able to tell from these photos that we have made some big changes in our front living room, including rearranging the furniture. I'm getting some photos together to show you all soon how different the room looks since I last shared. Until then, you can drool over our new front door. I know I am.