I know I normally only post once a day, but I have a lot to share with you all this week so expect a few extras.
One more month until I reach my one year goal and can wean Lucy off breastfeeding. That being said, I'm looking forward to being able to enjoy a daily cup of (non decaf) coffee. Caffeine is one of my vices that I will happily take up again. In anticipation of my return to caffeine, I decided to spruce up our coffee bar in the kitchen.
During one of my recent trips to Ikea, I picked up this
Grundtal Rail
and a 5-pack of the
Grundtal S Hooks
. I purchased both with the idea of using them to hang coffee mugs. Although these are meant to hang glasses against the wall, we couldn't do that due to the tile backsplash, so we decided to hang the railing on the underside of the cabinet. Doing that, the mugs would still hang above the coffee maker. I also purchased five of the white
Fargrik mugs
for .99 each. Excluding the set that came with our wedding dishes (in a light aqua color), all our mugs are a mixed and not really matched set that I picked up over the years from places like Anthropologie and Marshalls. I wanted all the hanging mugs to match and decided that white would look better against the backsplash than the light blue mugs we already had.
First, here is an old (and somewhat blurry) photo of how the coffee bar used to look.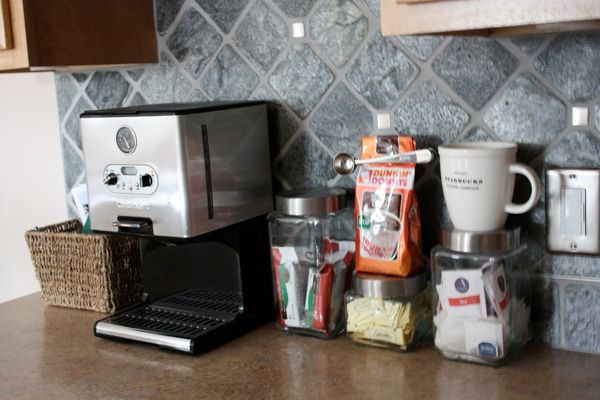 And how the coffee bar looks today after installing the mug rack: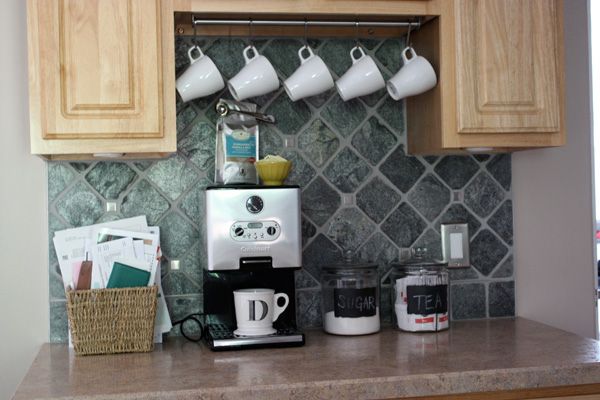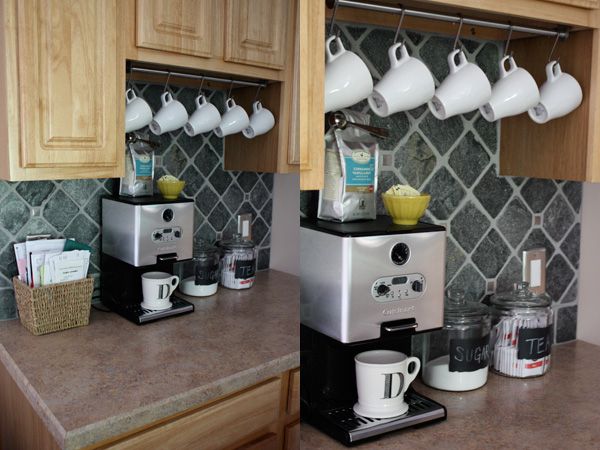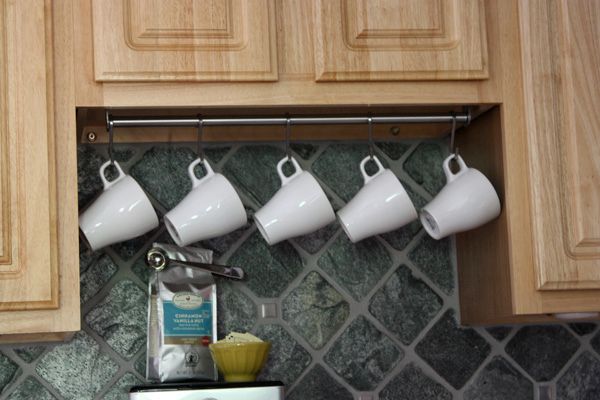 This was a five minute project and really simple to do. The only trick was finding screws that were large enough to hold the rack, but also short enough that they didn't go through the wood and up through the bottom shelf of the cabinets.
I am officially ready to get back to my caffeine routine, and we are officially ready to have some guests over for dinner with coffee/dessert. As with all rooms in our house this little nook isn't quite finished. I want to find an alternative way of storing our mail besides the little basket to the left of the coffee maker. That's another project for another day.