I'm a huge fan of all things resale. As you all know I frequent thrift and resale shops on a regular basis to find great pieces for our house. What you may or may not know is that I visit resale shops to stock up on some Lucy clothes as well. I've mentioned before that I'm pretty picky when it comes to Lucy's clothes. I'm not a big fan of the usual baby brands and prefer to stick to places that sell a little more 'grown up' or 'trendy' looking style (meaning I like to dress her like me). That being said, I still don't like to spend an arm and a leg on a dress or pair of pants considering she's growing like a weed and can only wear them for a few months. While I generally purchase her clothes from places like Baby Gap, H&M, Children's Place and Old Navy, I am careful to stick to sale racks, bring coupons, and use my Gap/Old Navy credit card on days when I can score additional discounts. I've also been lucky to find some great staple items at resale shops for a fraction of the price. Last winter I bought two winter coats, both Baby Gap brands for less than $10 each. I also was able to get a few nice pairs of Gap and H&M jeans that would normally run $20-$30 for about $7 a pair.
Since Lucy is changing over to her 12 month clothing I thought it would be a good time to go though all her clothes that I've kept since birth, pack away a few of my favorite pieces that I want to keep either for sentimental reasons or because I may need them in the future, and simply resell or donate the rest. Because she had so many clothes, I wound up with 4 shopping bags worth of collected clothes. There are two resales shops in Delaware that are fairly close to our house. One wasn't accepting anything I had to sell so I went to my 'usual' spot. In the end, the shop bought about a quarter of the items that I brought in and gave me $50. It might not seem like a lot, but that's a pretty good sell for me. While they looked through my things I browsed the racks to see if I could find anything for Lucy for the fall.
Here are my finds.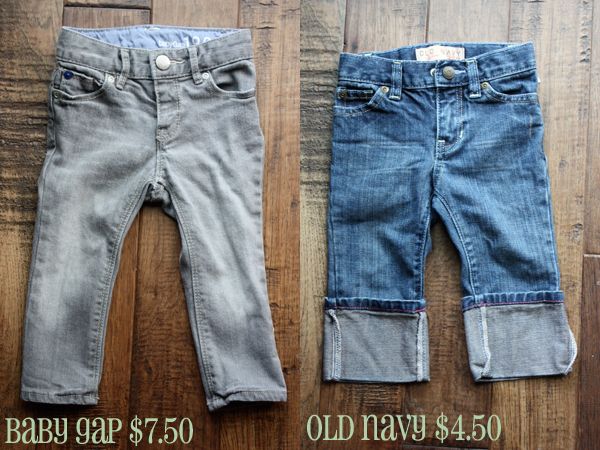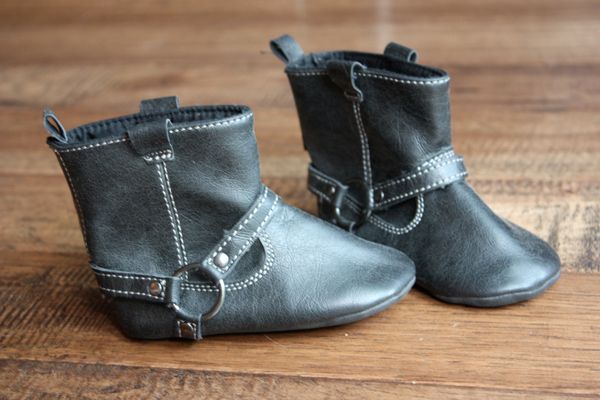 The boots are also from Old Navy and cost $2.50 for the pair. When I went to check out, I told them I would be using some of the money to purchase my new items. So I spent about half of my earnings on the four pairs of jeans and boots. They cut me a check for the remaining amount. I was really pleased with what I found. I spent about $25 on what would have cost me probably $100 or more if I had bought new. In the end I was really happy with what I accomplished.
A few tips for reselling clothes:
- Make sure to call ahead to see what, if any, items are being accepted. I've learned that most places accept items (specifically clothing) for upcoming seasons. Meaning don't expect to sell a lot of summer clothes in August. The first store I called told me they were only accepting clothes 18 months or larger and would only give store credit. You definitely want this information before you pack up your car and lug all your bags to the resale shop only to be turned away.
- Know from the beginning that not everything you bring is going to be bought back. Whenever I go to resell, I generally am given half to 3/4 of my things back. It's just how it is. They are usually up front in saying that they are very selective about what they take back.
- Be realistic with your expections. You aren't going to be getting $5 or more for any items. Many resale shops will spend between $.50 to $2 per item when buying from you.
- Understand that many resale places are picky. They want nice brands, good quality and trendy items. If you think something is ugly, tacky and you'd never use, chances are they are going to think the same. If you don't want to buy it, why would they?
- Don't try to sell damaged, stained or worn out clothing.
- You can always try a second resale shop to see if they will buy anything that was leftover, but I always take the remaining clothing and donate to Goodwill or pack them away for the next donation truck that comes aroud.
- Although I didn't mention it, most resale shops also accept furniture, strollers, toys, books, etc. I'm not sure how picky they are or what kind of money they pay for these items as I haven't sold them before.
Have you had any resale scores??