Lucy and I went out last weekend on a long overdue thrift trip. We hit up a few of our usual spots including Goodwill, Goodeals and Family Thrift. While we didn't find much at Family Thrift or Goodeals (I usually get either a jackpot or nothing at both of those places), we did see some items with great DIY potential at Goodwill. I'm a big fan of this particular Goodwill by our house. It was where I scored the vintage gold bar cart that resides in our dining room.
This lamp was the first thing I saw when I entered the store. There was actually a set of two of them. I really love the retro look. A quick coat of some yellow spray paint on the shade and this would be a cool lamp to go above the kitchen table. If we had a kitchen table, that is...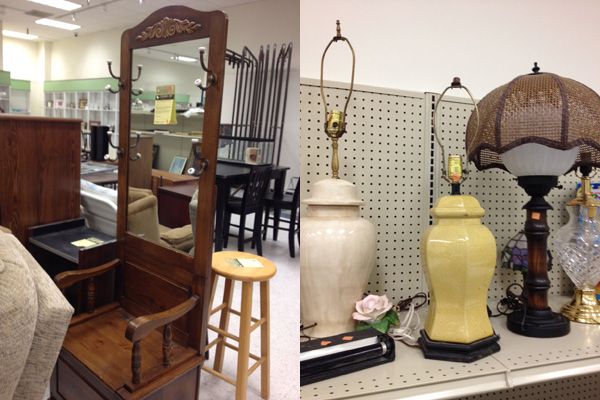 I dream of having a house with a great entryway where I can put one of these great pieces of furniture. Our little hallway now has just enough room to fit a mirror on the wall. Also, this fun little yellow lamp just needs fresh shade and it's good as new. Notice the other lamp that matched the ones above?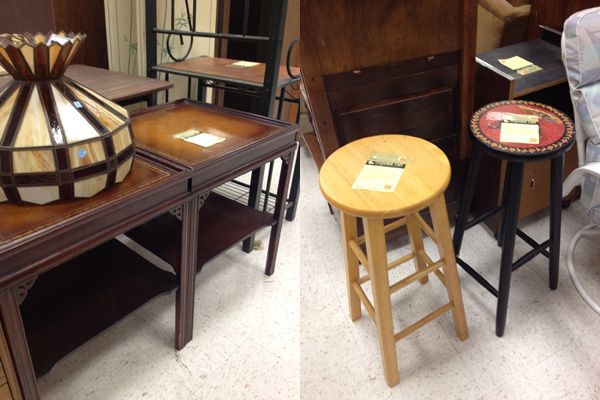 These end tables are gorgeous. I love the thick table top and little detail at the corner of the legs. I see end tables all the time with so much great potential to be repainted and repurposed. We just don't have the room for one more table or chair in our tiny living room unless we get rid of something.
The stools caught my eye as I've been seeing a few great ideas on Pinterest lately featuring repurposed stools likes these. (Check out this stool turned gift wrap organizer. What a great idea.)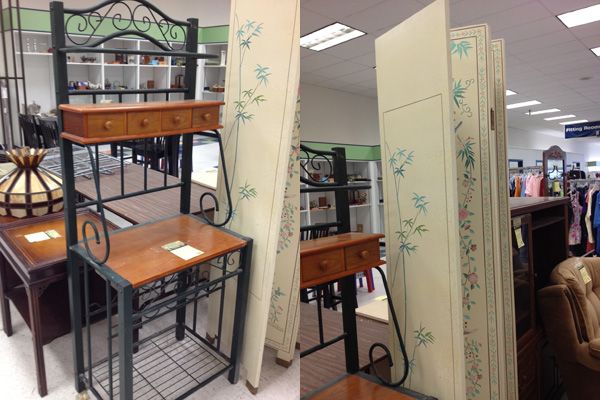 This baker's rack just needs a little love (aka paint) and some new knobs and it would look awesome either in a kitchen or repurposed as a bar. ($45.00)
Not sure why, but I've wanted a room divider for a some time now, even though I have no real place to put one. I wasn't crazy about the fact that this one was solid wood, I prefer pretty scroll metal ones. It would take some fresh paint and careful detailed decorating (maybe fabric or something handpainted) to update this one while keeping it from just looking like a bunch of pieces of wood. ($45.00)
I always scope out chairs in thrift stores. Most of the time when I find vintage ones like these I actually think the original fabric is great and would hate to cover it. Although both of these chairs have great shape and were in near perfect condition so they would be ideal finds for someone pretty experienced in reupholstering (aka not me. I've done the chair seats in my dining room and that's it!) $30.00 for the yellow and $25.00 for the green.
I'm not even sure what to say about these. They look like they came from that room in a rich person's house where no one is allowed to set foot inside.. The intricate woodwork and plush velvet just scream royalty. I wouldn't want them, but they look pretty interesting.
Ahhh. This dresser. I don't know why but I just can't seem to commit to a dresser for the dining room. I've been looking for one for some time now to make into a bar/wine storage. I liked how narrow this particular one is considering we are limited in space between the wall and dining room table. I have grand ideas for a dresser when I find one, but am hesitatant to purchase without Jordan's input. One of these days I really will find and buy one if I see a good one at the right price.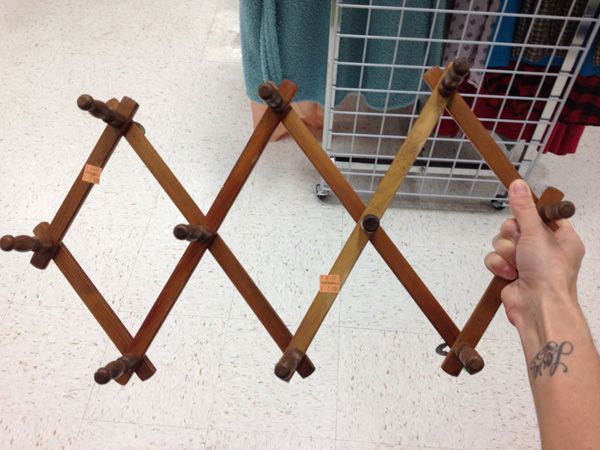 These laundry racks caught my eye. For $2 each I bought both that Goodwill was selling. Even though we already have one of these in our laundry room I figured I'll find some cool way to use them. Maybe outside somehow to hang plants or grill supplies?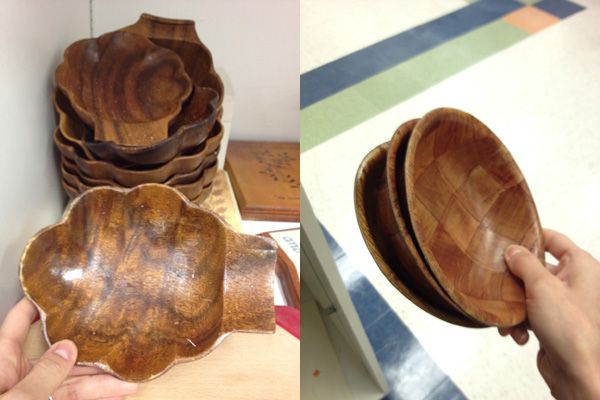 For just $1.00 each, a quick mod podge or coat of paint and any of these bowls would be a great 'catch-all' for a night stand or sofa table. I kind of have a little obsession with small bowls and places to put jewerly, change, etc. I tend to buy them for no reason and rearrange them around the house randomly.
This great little shelf was a cool find that I was tempted to get for only $5.00. Again, I have no place to put it and I'm trying to avoid impulse thrift buys. I have a junk room in the basement filled with things like this.
Pineapples always catch my eye as the symbol of hospitality (I majored in hospitality in college, which is the only reason I know this.) I contemplated the towel ring and soap dish for the guest bathroom, either keeping them gold or spray painting white, but they don't quite go with the theme I'm aiming for.
I honestly don't even know exactly what these bows are for but I thought they were adorable! They were all in a plastic bag together with a sticker saying that it could not be opened and they could not be separated. Anyone know what they are?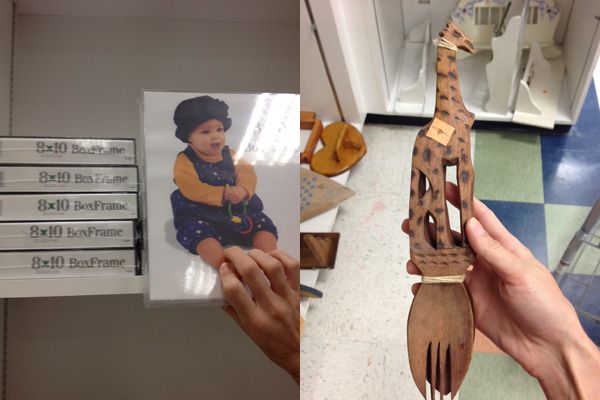 Thrift stores are great places to find things in bulk that people bought and never used. These clear box frames were $1 a piece and would be a DIY/craft person's dream for some fun wall art. 8"x10", too! I was trying to find some cool project I could use these for. Maybe a gallery wall of some sort, but I never bought them.
The wooden giraffe utensils were a favorite of Lucy's. They almost made it into our cart, but like I said I'm trying to be a little more practical in my thrift choices.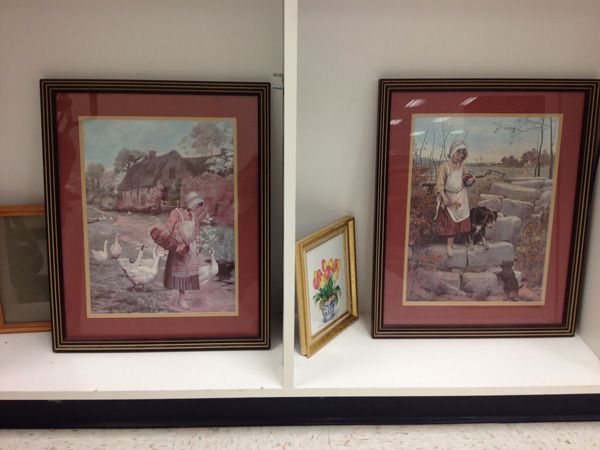 Finally I came across these frames. Exactly what I came to the thrift store looking for: large, thin wood frames that I could take a little spray paint to and use them for some wall art in Lucy's room. I took them home and immediately got to work. All I need is to convince Jordan to hang them for me. Stay tuned to find out what I did with them.