My best friend's sister is getting married at the end of December. You might remember the BBQ themed baby shower that Ashley's sister threw for her this past summer. I helped Tina with a number of DIY and decor for the baby shower and we worked so well together that I offered her anything she might need for her upcoming wedding. I was thrilled when Tina contacted me a few weeks ago to do some print work for her bridal shower. The shower was this past weekend and I wanted to share with you all a few of the items I made.
All items DIYed by me. Gold frames thrifted.
Tina explained to me the tea party theme and black and white color scheme along with a few ideas she wanted for decor. I had such a fun time putting the menus together and making the 'Bride To Be' banner. She's a lover of all things Anthropologie like myself and even used their monogrammed mugs as a favor for the bridal shower.
One of the things Tina mentioned was some sort of bride to be sign for her chair. She didn't request anything specific, so I took the idea and ran with it. I didn't tell her what I was doing until the finished product.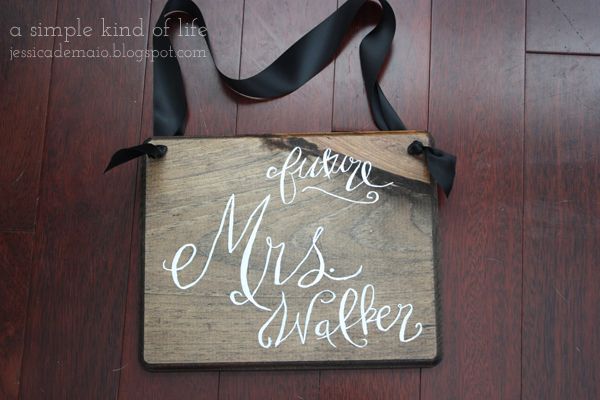 She loved her 'Future Mrs. Walker' chair sign and I have to say I am pretty pleased with how it turned out myself. This was the first time doing something like this and I had so much fun that I hope it won't be the last. Seriously, anyone have an upcoming bridal shower?
The shower was yesterday and everything was absolutely gorgeous. Unfortunately I didn't bring my camera, but I did snap one quick photo on my phone.
I was also incredibly flattered and quite a bit awestruck that Wedding Chicks gave some love on their Instagram page for the DIY I did using their silhouette printable.
Next up, planning a baby shower for my other best friend. :)