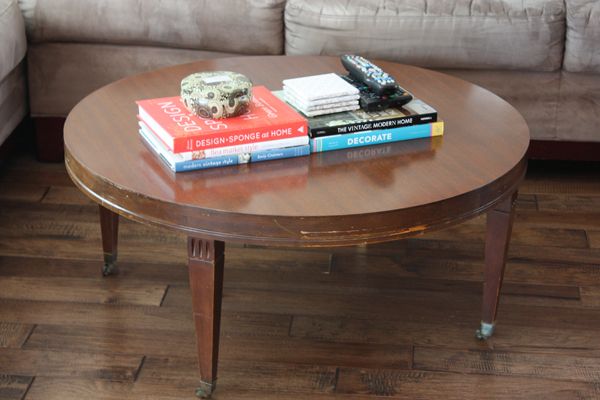 Do you remember when my mom gave us this coffee table to replace our long, not-so-baby-friendly Ikea one? It was a little beat up from being decades old, but was a great addition to our ever-changing living room. Also the fact that it was given to me by my mom makes it a little extra special in my mind.
I love the coffee table and the size of it is perfect for our living room. It just needed a little TLC. There were many spots along the side where the wood had worn down or chipped. You can't even see the worst of it in these photos. I guess I tried to hide it when I introduced the table in the previous post.
I purchased this gold liquid gilding a few weeks back as a back up plan for some gold leaf I also bought. My original plan was to use the gold leaf on the table edge to spruce it up a bit and cover the damaged sides. After about 2 minutes and a 15 on the frustration scale, I pretty quickly scrapped my original plan. I have never worked with gold leaf before, so I may not have been doing it properly. Either way, the sheets kept sticking and wrinkling and it took me no time to decide I needed my backup plan. So I brought out the gilding.
I'll admit I made a bit of an amateur mistake and didn't sand the side of the table before applying the gilding. Oops. I had all intentions of doing so and I think I was so frustrated with the gold leaf that I just wanted to cover it up. The end result surprisingly doesn't show many flaws.
What do you think? I feel like the photos make the gold almost look a bit copper-y. I'm ok with that, but it looks more gold in person. This simple upgrade was really easy to do as long as you do it with some patience and a steady hand. I used a thin strip of green Frog Tape along the top to leave the lip of the tabletop.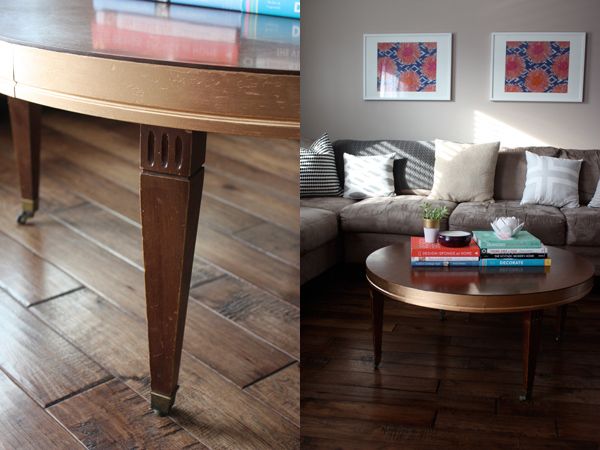 It received the thumbs up from Jordan, which is always a plus. He's usually on board with most of my projects.
PS. Keeping it real. I stole that succulent from another place in the house just for these photos. Our coffee table usually is covered with Lucy toys, coasters with sippy cups and remotes. Makes me realize our coffee table could use some fresh flowers.
PPS. I have new pillows beign delivered this week to add to our couch and punch up the color in our living room a bit. Can't wait to share when they arrive.