When I first became a homeowner, I knew nothing about art and wall decor. Over the years I've decorated our house with a lot of DIY type art (painted canvases, painted wood, framed napkins, etc) as well as personal photos, but never felt comfortable enough to purchase anything. I've recently begun to explore different artists, photographers, and prints and am slowly starting to add some legitimate art to our house.
I also purchased two 20"x30" frames from Amazon. I chose white because I didn't want the frame to take away from the print and wanted the green to really stand out. I hung them on the laundry room wall over the weekend.
This is the view from our kitchen. The family room is to the right and powder room to the left.
My reason for hanging these on this wall was that I wanted something attractive that could be seen from the kitchen when we have company. While it might makes the most sense to use all the wall space in a small laundry room for storage, it didn't want our guests to see a wall of cleaning supplies or laundry equipment when they looked down the hall. I'm sort of hiding the fact that the laundry room is right there.
I briefly considered putting a door at the entrance of the laundry room since it can be a bit noisy when you're trying to watch TV with the machines running. We nixed that idea for two reasons. First, I didn't want to lose any natural light coming in from the laundry room door (I even thought about a glass door for that reason). The second reason we decided against a door is the vent you see under the prints. If we blocked off the room we would also block one of the main sources of air conditioning and heat from getting to our first floor.
I also thought about hanging a gallery wall here, but I realized that the photos would be so small it would force our guests to have to walk down the hall into the laundry room to even look at them. With bigger prints they can easily be seen from the kitchen or even when passing through the hall to the powder room.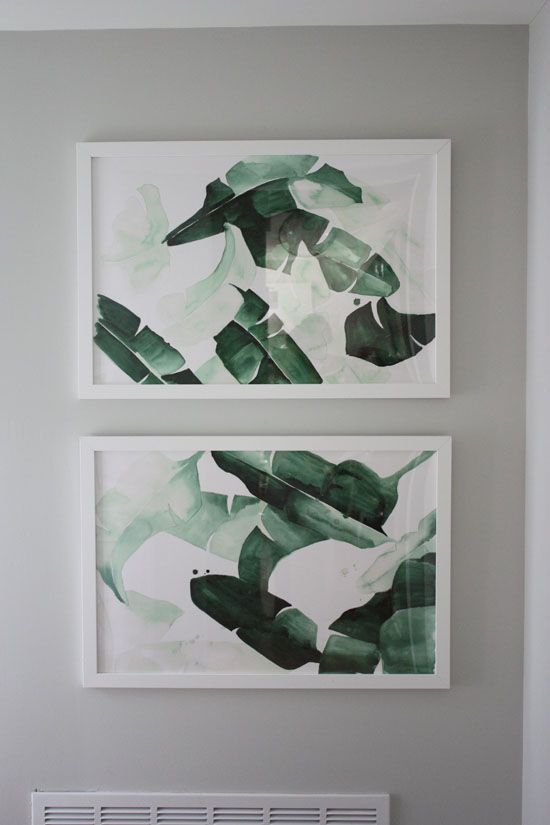 Now that these are hung, I'll admit I'm not 100% sure I love it. What do you all think? Is this too much for a laundry room? Do you like the view from the kitchen? I may just be overthinking things as I'm usually never 100% sold on anything.
It's a little difficult to get photos of this tiny room with just natural light, especially considering the overcast days we've been having. It doesn't look this dark in person.
I do love how the green looks against our pale gray walls and how it complements the green in the rug.
We don't have many other options where these prints could go and I would prefer to keep them downstairs where people can see. My only other thought was possibly side by side on the wall behind our kitchen table in place of the lyric canvas. It would certainly add some color to our kitchen, but I don't know if the wall is too large for them to hang.
Luckily, the fun thing about art is that it can be moved around whenever you want. These frames they are hung by a simple picture hanger, meaning the wall is a quick and simple repair should we choose to move them.
The print will remain for a while until I decide if I'm sold on that location, but don't be surprised if you see them moving around the house in a few months!