Let's talk kitchen tables. Specifically, styling them. How does your kitchen table look when you aren't eating? Is it completely bare? Do you have it covered in mail/computer/work? Do you have some sort of flower arrangement? Do you have it set with dishes?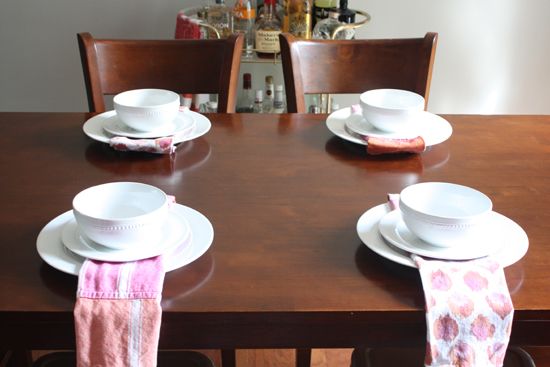 I'll admit I wasn't quite sure how to style our table after we first moved in. I tried a few different styles. The first few weeks after moving in it was completely bare, but that looked so unfinished. For a while I kept a simple vase with whatever unique fresh flowers they had at my most recent grocery trip. I love the look but it can become an expensive habit to keep up, plus I get frustrated when they start dying too soon. Then I had a tray styled with a few small dishes, bowls, salt and pepper shakers, and cloth napkins, but it seemed too fake.
I finally decided to try setting the table, similar to how it looked in our dining room at the townhouse. To me, a set table looks cozy and homey.. as if dinner is about to be served. For our table, I opted to go with a simple arrangement of dishes and napkins as opposed to going all out with glasses, flatware, etc.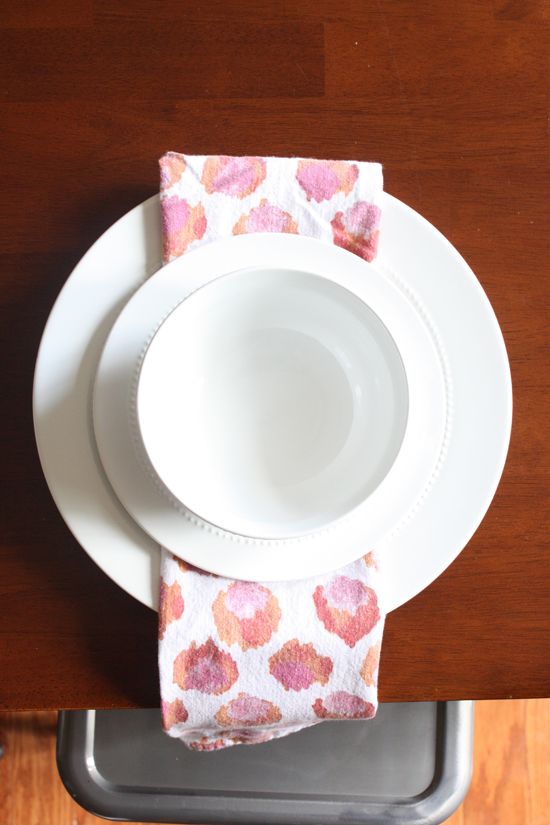 Our dishes are from Target and the napkins were snagged in the Anthropologie clearance room a few years back. When we moved I decided to pack up the blue dishes we registered for when we got married in exchange for clean, white ones. I began purchasing individual pieces here and there over the past year, and now we have 8 full sets (dinner plate, salad plate, and bowl).
I love the clean look of the white dishes and the beading around the edges gives just enough detail to dress them up a bit. I've collected a number of clearance napkins from Anthro and I must say these ones are my favorite.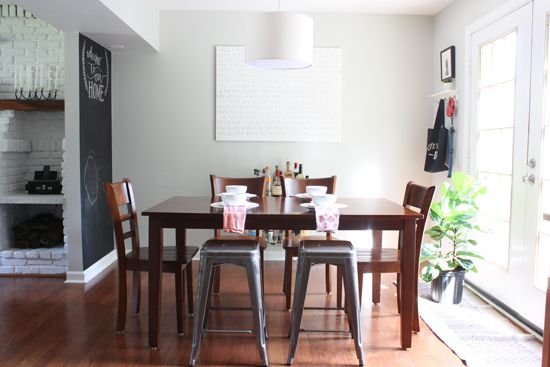 I recently began thinking about our current set up. While it looks pretty, some days it isn't very practical. When Lucy goes to eat or play something at the table, I have to push all the dishes aside (she uses her own dishes). We also don't get to sit down at the table and eat as a family every night because of Jordan's work schedule, so after a few days I feel like the dishes start to get a little dusty if we don't regularly use them. As a result I end up having to give them all a quick clean fairly often.
Oops, you can see every scratch and blemish in our table from this angle. Keeping it real over here.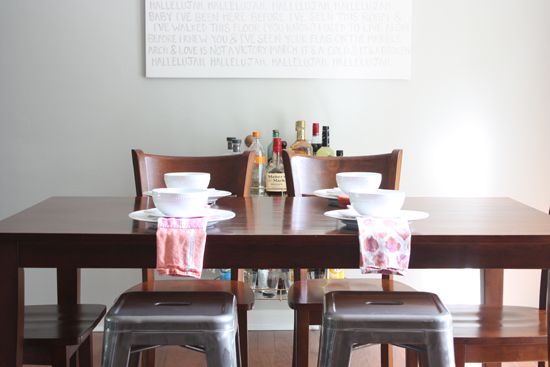 For now the current set up will stay as is, but I'm always on the lookout for new ideas and inspiration.
What do you all think? How do you style your kitchen table?
(P.S. I know I'm long overdue for a kitchen tour, I just can't seem to keep the entire room clean at once. Hoping to get one in the near future.)