Happy Memorial Day! Hope you are all having a great long weekend. I know we are. I always look forward to these longs weekends as I feel I can get the perfect balance of doing work around the house without feeling like I'm neglecting family time. Jordan and I worked hard on Saturday getting things done so we could really take advantage of yesterday and today. We were able to get our first dinner on the deck last night! First of many this summer.
After putting the guest room on hold due to a bit of a creativity block, I'm proud to say we're back on track. I made a few purchases this weekend, finally decided what direction I wanted to take the room, and squeezed in this last minute DIY project.
I mentioned last week how I love the
dipped furniture trend
I've been seeing lately. I decided to give it a try with a table that we've had in the dining room. My plan is to move the table into the guest room and use it as a nightstand next to the bed.
To start, I measured and taped off the legs where I wanted the paint to stop. I wanted the white to cover about 2/3 of the bottom of the table, so I measured 8 inches from the top to mark and tape off the legs.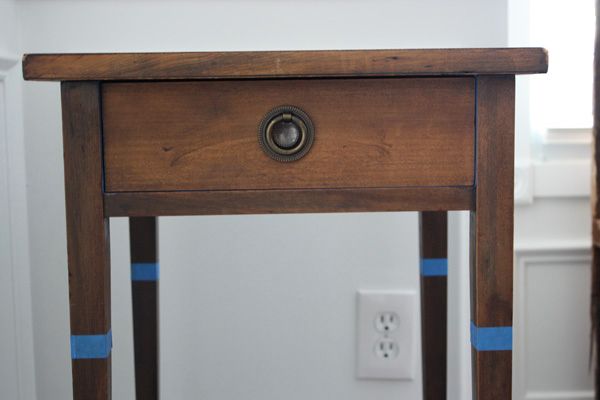 Since I decided to use spray paint, I needed to cover the rest of the table that I didn't want painted. To do so, I simply cut up two plastic bags and wrapped them around the top of the table and used masking tape to secure them.
I selected a spray primer and spray paint both from Rust-Oleum. The enamel paint is a gloss white. I find this Rust-Oleum paint to be the best when spray painting wood furniture. It's easy to use, dries quickly, a leave a nice semi-glossy finish.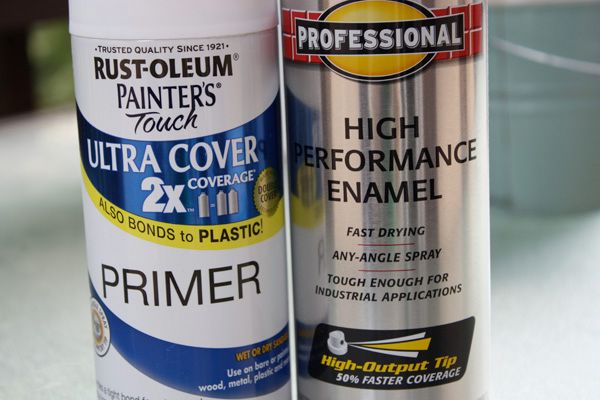 Since my table was dark, I opted for two coats of primer.
Two coats of primer and two coats of paint later, I let the table dry thoroughly before taking off the plastic and tape. The next morning, it looked like this.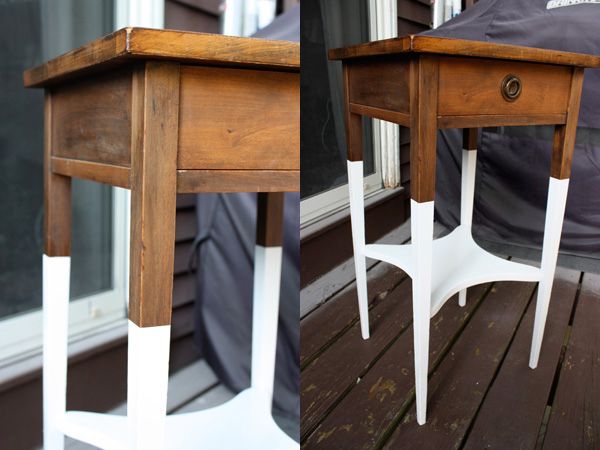 Here is a side by side comparison of the table before and after painting. I really like the contrast of the dark table with the white legs. I was initially debating if I wanted to stain the bare wood half a different color. I also was considering painting the top white and leaving the bottom the wood color. I'm so glad I left the wood alone and painted the bottom half. I'm really please with how the table turned out.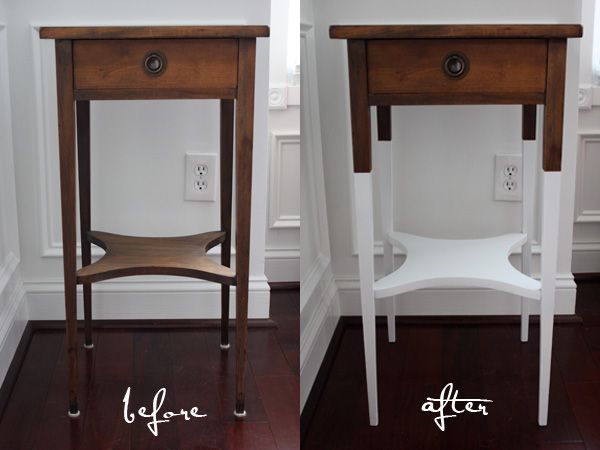 This project was so easy to do and I'm thrilled with the results. I can't wait to try it with another, larger piece of furniture. And maybe a few small decorate accessories, too.
Anyone else planning to dip some furniture?