Last Thursday after work I went straight to my thrifting gold-mine, Goodeals. I hadn't been for quite some time and was itching to score some goodies. I mentioned before that this week is my 'staycation', aka the week I plan to catch up on some house projects and tackle a few things I've been dragging my feet on. To start, a good thrifting adventure.
Ever since Lucy's 12 month milestones when I borrowed this chair from my grandparents, I have been wanted to find a small mini rocking for our house. I figure she could use it to sit and drink her bottle whiel she catches up on her shoes, or even while she laughs and watches the animals run around the house like a zoo. I couldn't believe my luck when I spied this perfect little seat at Goodeals.
Since it has been on sale for a few weeks now, the price was knocked down from about $18 to $10. (Goodeals reduces the price of their items by 10% each week that they haven't been sold. Any items left after 10 weeks are free).
I love the smooth clean lines and the finish of the wood. The chair is still in great shape, which might not always be the case with antiques, but is very important when it comes to where my little one sits.
While Lucy loved the chair as soon as I brought it home, she doesn't quite get the concept of how to use it.
My next score was a simple frame. I love the look of thin frames with thick, slightly off centered mats. I was prettty excited when this one was marked down to $7 after just a few weeks on sale. It's currently residing on the dresser in the guest room (wait until you all see the changes I made in there! More on that tomorrow). While I like how the print looks in the frame I want to swap it out for something else, but I haven't decided what. Most likely something DIYed, which I will of course fill you all in on.
My final thrift find was this great luggage rack/tray with stand.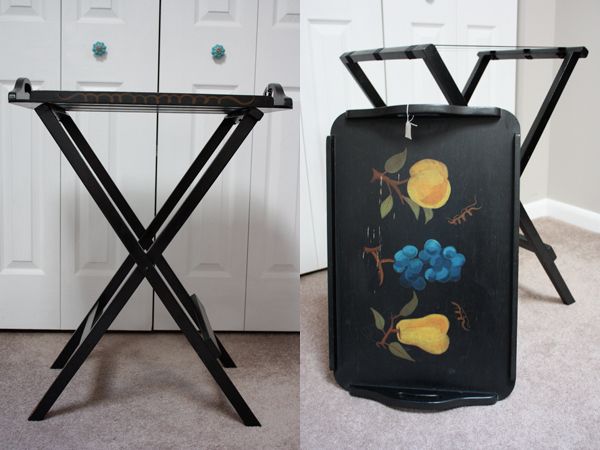 What? You don't think it's pretty?
Well, honestly neither do I. Of course I plan on painting that baby. Painted fruit is just not my thing.
I've got a few ideas for this tray. I haven't quite figured out how I want to paint it, but I will tell you it will most likely end up in the guest room.
A successful thrift trip was just what I needed to start off my staycation and get motivated. Tomorrow I can't wait to share with you all the big change we made in the guest room.