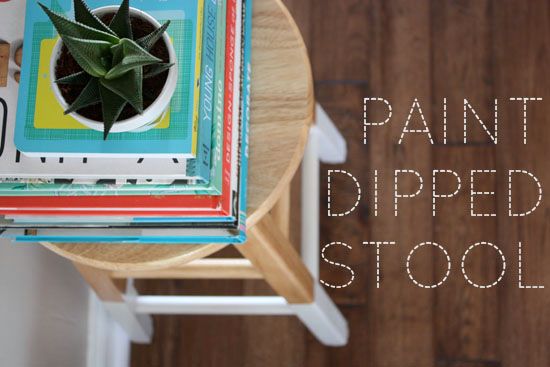 I tackled another paint dipped project this past weekend. This is by no means a new idea or project for me. Almost a year ago I dipped this table for our guest room. I really love this trend because it's so simple to achieve, yet makes a huge impact on a piece of furniture.
For a few months now we've had this old chair in our living room. It was actually one of the chairs from my family's kitchen set we had growing up (so there is some sentimental attachment to it). We have this awkward piece of wall that sticks out into our living room/kitchen. As far as I know it serves no real purpose. I've had the framed animal menagerie on that wall for a while now and I had the old chair against the wall underneath. I thought I was pretty clever using this chair to stack my collection of design books. I figured it could double as both decorative and extra seating when we had people over. Of course none of our guests ever asked if they could relocate my 27 design books so they could sit on this low, hard chair.
Lucy also grew fond of this set up and started taking the books off the chair and either 'reading' or just relocating them. After a while I figured it was time to change things up a bit. I had a better place for the chair anyway, but still needed something to put under the frame, preferably something with a little more height.
I purchased this stool from Target for $19.99. They had a $15 version, but I was afraid it would be too low in our kitchen. I already have a stock of spray paint and tape and didn't need to purchase any additional supplies, so $20 wouldn't be breaking the bank for me.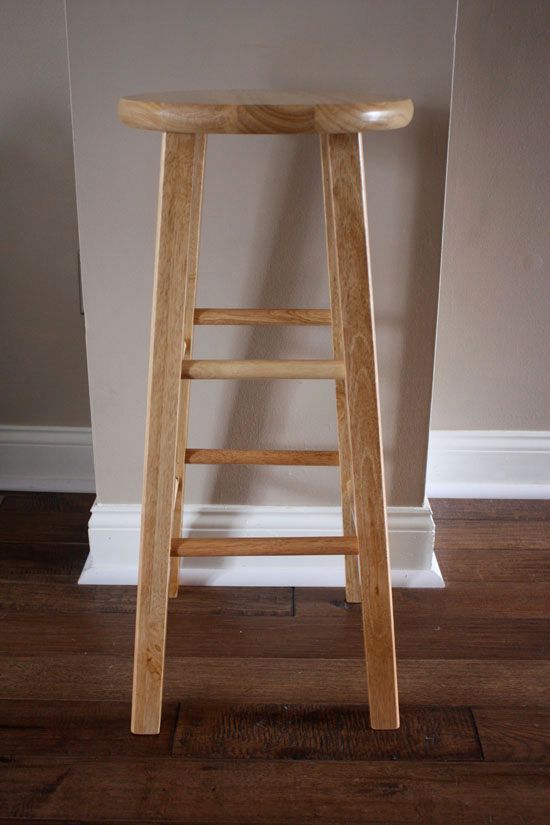 I knew right away that I wanted to dip the legs of the stool. The wood alone was just too plain for our taste. Plus when do I ever leave something as is?
Now I'll start by saying I had big plans for this stool. To start it was going to get completely sanded and stained a darker color. Honey wood isn't my taste. However, I asked Jordan's opinion and he nixed that idea, saying he liked the lighter wood (and I do seriously take his opinions into consideration). Plus the other table I dipped was darker and I was a little intrigued as to how it would look with light wood. I also really wanted to do a double dip, where I did white paint first, followed by yellow paint a few inches lower.
Before I could start painting, I measured how high I wanted the painted legs to be. In this case I chose the one foot mark. I marked with a pencil on each side of each leg, then taped the lines using painter's tape. Since I wanted to do spray paint I used some old grocery bags to cover the rest of the stool that I didn't want painted. We lucked out with decent weather, minus the wind, so spray painting outside was easy.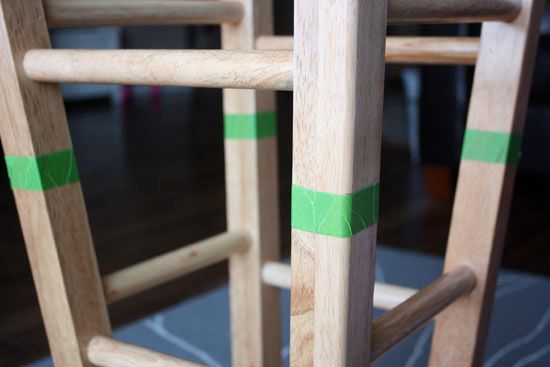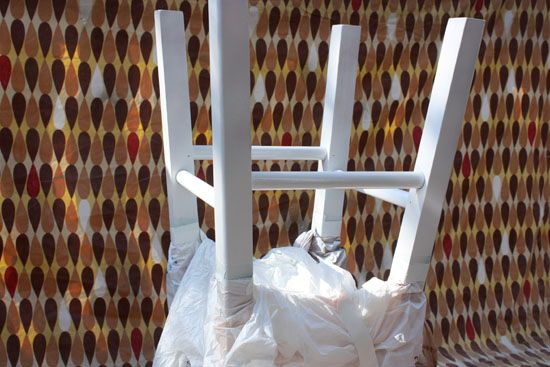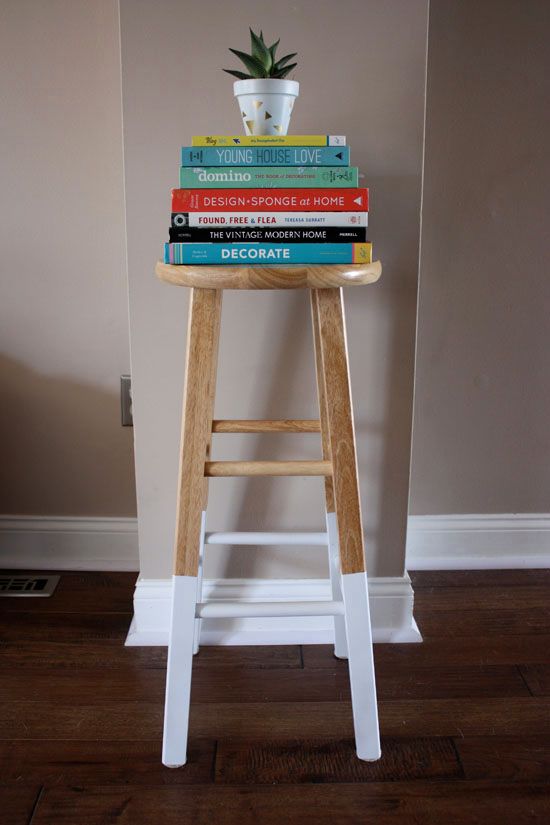 A few coats of white later and I had a 'newer' new stool. Once I painted the stool white and took off the tape I just couldn't convince myself to add the yellow.
I really love the contrast of the white and wood. Part of me feels that this stool might still need something, but I can't quite put my finger on it.
Who knows, in a few weeks I may decide to add the yellow, or more white on the seat, or something else. For now I'm loving the new addition to our living room/kitchen space.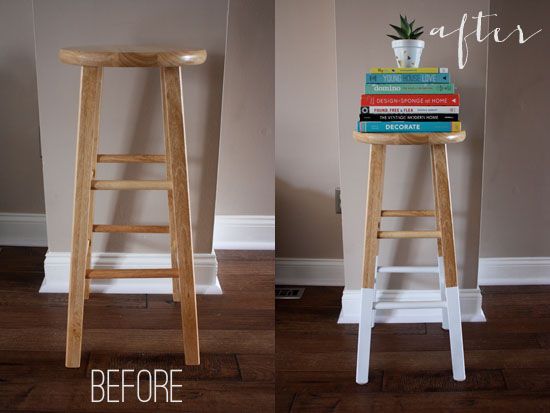 Have you tried the paint dipped trend, yet?